Description
Handmade Leather Guitar Straps with Matching Belts
The Musician's Delight Collection, a collection of  Guitar Straps with Matching Belts.  It was

designed with the musician in mind.  Musicians love the padded straps because of the unsurpassed comfort they provide allowing them to  play enjoyably  for hours.
The collection  also includes an assortment of matching belts with mechanic style buckles that will prevent your instrument from getting scratched. The belt hooks from the inside, so that  no metal buckle is exposed to scratch the back of your instrument or pinch your stomach while playing.  Belts come with tooled designs to match the straps as well as in solid colors.
Customers love  the belts because they are available with traditional or mechanics buckles.  In addition both the strap and belt are custom sized at time of purchase assuring a perfect fit.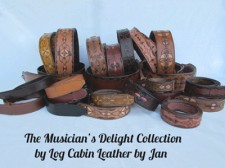 Designed with the musician in mind this collection consists of 10 fully padded all leather Guitar Straps, in 5 widths, that will provide unsurpassed comfort for hours of playing pleasure, and an assortment of matching hand tooled and plain Belts with mechanics style buckles. The buckle attaches on the inside. No metal buckle is exposed to scratch the back of your instruments or pinch your stomach when bending. All products are enduring treasures and are designed for a lifetime of daily use.
Webster, NH, September 13, 2016 (Newswire.com) –  Every guitar strap created by Log Cabin Leather by Jan has an amazing hand tooled original design.  They are as unique as you are.  A 1/2″ of foam padding is sandwiched between two layers of leather providing astonishing comfort for both professional and amateur players.  All straps are fully adjustable and provide several attachment options with ties and buttons.  Straps come in different lengths to accommodate different body sizes.  They can be ordered with a suede or leather lining.  They come in widths from 2″-4″.  Many color options are available.  Custom alterations are made free of charge.  Find the one that suits your needs and compliments your personal style.
Most of the items designed by Log Cabin leather by Jan were created, or originated from customers ideas. My original guitar straps were not padded or lined and came in only one width. Bass Guitarists asked for wider straps and for the padding because their instruments are so heavy, others made suggestions about the attachment options. I design patterns to create what customers have asked for. Please feel free to contact me, jan@logcabinleatherbyjan.net, I would love to hear your ideas. I construct my products to be durable and functional. They will become lifelong keepsakes.
The belts come in solid colors and with designs to match the straps.  All belts are custom-tailored at time of purchase, assuring a perfect fit.  The heavy duty mechanics buckles were originally developed so mechanics wouldn't scratch vehicles, but are also great for musicians.  Belts can be ordered with traditional buckles as well.
All straps are hand cut from premium American tanned hides and are designed to complement the natural beauty of the leather. All are as functional as they are distinctive.  They are delightful to give as well as receive.
Find the Collection at  www.logcabinleatherbyjan.com
Source: Log Cabin Leather by additional Images